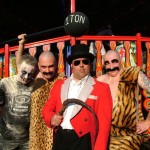 PETER AND THE TEST TUBE BABIES wystąpi na festiwalu ROCK NA BAGNIE
PETER AND THE TEST TUBE BABIES – powstał w małej miejscowści Peaceheaven (na południu Anglii) w 1978 roku.
Mają w swojej dyskografii kilka świetnych płyt m.in:
" Mating Sounds Of South American Frogs", "Soberphobia",
"Supermodels" oraz singli: "Banned From The Pubs" czy "Run Like Hell". Odwiedzali nasz kraj trzykrotnie. W przyszłym roku
ponownie przyjadą do Polski aby zagrać 1 lipca w Goniądzu na kolejnej edycji festiwalu "Rock Na Bagnie".